A RESPONSE TO THE CRISIS FOR PROACTIVE BUSINESS DEVELOPMENT
At JoMo Distribution, we focused our scan on B2B business events dedicated to the FMCG Private Label industry. We identified 2 major events which take place on a yearly basis in Europe.
To start with, PLMA or Private Label Manufacturing Association takes place every spring in Amsterdam. They managed to secure their first digital session which they called PLMA Online.
In the beginning of December 2020 thanks to the initiative taken by PLMA we experienced our first online event as exhibitors. They managed to attract worldwide visitors from all time zones. The platform was quite static but user-friendly.
The interface for exhibitors allowed us to do a company presentation page in which you could present part of your catalogue with pictures, text description and a video link. A call-to-action allowed "visitor" users to ask for match-making sessions with several options to engage interaction with exhibitors such as "Video Call", "Card Swap" etc.
However, these call-to-action were only available on one end which didn't give us "exhibitors" any possibility of engagement towards visitors.
This first online business event was overall a growth opportunity for JoMo Distribution despite the fact that it was a one-way platform. Indeed, as exhibitors we couldn't interact much with visitors if they didn't do the first step.
The other positive tool was the export to excel format that is useful when you want to optimize business follow-up in your own CRM software. An overall positive feedback on the first "Online "world of private label" 2020. Even if it would have been interesting to know who visited the "virtual stand".
Secondly, the other digital b2b event focused on Private Label in Europe is Marca by BolognaFiere based in northern Italy which is a leading Private Label Conference and Exhibition in Europe. In the current context, they also have taken steps to go towards a digital format.
Their partner B2match will coordinate and organise the first online edition of the fair in March 2021. This interactive tool will promote JoMo Distribution from the 15th to the 25th of March 2021.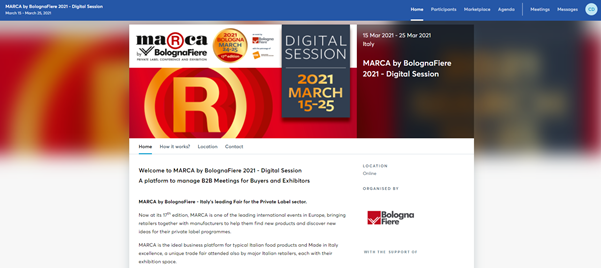 JoMo Distribution will be attending to promote its activity and make new business synergies. The platform is one of the leading event networking management software on the market. This format is 100% match making sessions, also called Peer-to-Peer meetings, over 10 days.
Overall, considering the context in which we find ourselves at the moment Online Business Events have become the new tool for an active business development strategy.
It will never replace a face-to-face encounter such as the ones we can make at business fair event but it is let's say that it's "better than nothing". The coverage of the event is however greater than physical ones as people from all over the world can attend. People who might not be able to come in "normal circumstances".
The effects of noise on your health
In which context should you use earplugs?